Catering and Event Services
Andy's Ice is the finest quality 'Real Gourmet Italian Ice' made fresh daily!
Call Us at (855) 76-ANDYS (855-762-6397) or fill out the form below.
Save
Please fill out our Catering & Event Inquiry form below, and someone will reply to you as soon as possible.
Save
Please ensure that your event is minimum of one hour of service and 100 servings or more.
Save
Let Andy's Italian Ices be The WOW! Factor at your next affair. Invite our professional courteous staff to cater your next Party, Social or Business Event with over 45+ mouth-watering flavors of Water Ice, Crème Ice and even Sugar-Free offerings. At Andy's, we do all types of events, parties, picnics, barbecues, office celebrations and more. Andy's Italian Ices will come to your On-Site location, Catering Facility, Backyard, Office, School, Beach, Summer Home, and more. You tell us the location, pick the flavors, (ask about our made-to-order flavors & Seasonal favorites of Water Ice and Crème Ice) and Andy's will do the rest. You can select from our complete services throughout your event.
Our truck can provide the following: (see our menu page for more details)
Gourmet Italian Ices (45+ mouth-watering flavors of Water Ice, Crème Ice and even Sugar-Free offerings)
Gourmet Ice Cream
Coffee
Hot Teas
Hot Coco
Espresso
A large selection of Cold Beverages including iced Lattes, Macchiatos, Cappuccinos, and Mochaccinos
Donuts & Pastries
Smoothies
Shakes
At ANDY's, we do all the work so you can enjoy your party!
Having a Holy Communion, Christening, Bar/Bat Mitzvah, Wedding, Anniversary, Sweet Sixteen, Bridal Shower, Brunch, Barbeque, Rehersal Dinner, Bachelor & Bachelorette Parties, or Celebrating a Birthday or Private Party? Invite Andy's Italian Ices to impress your guests. Let our Italian Music serenade your guests with the uniqueness of the most delicious Water Ice and Crème Ice experience ever!
Having an evening affair?
Worried about not having enough lights?  Our truck comes fully lite up with LED lighting.
Our truck comes fully equipped ready to serve any amount of people.
We also can serve Hot and Cold Beverages from our Espresso Bar.
Let Andy's Italian Ices "Bring the Kid Out In All Of Us"
Delivering Homemade Italian Ices from NYC to The Hamptons & Montauk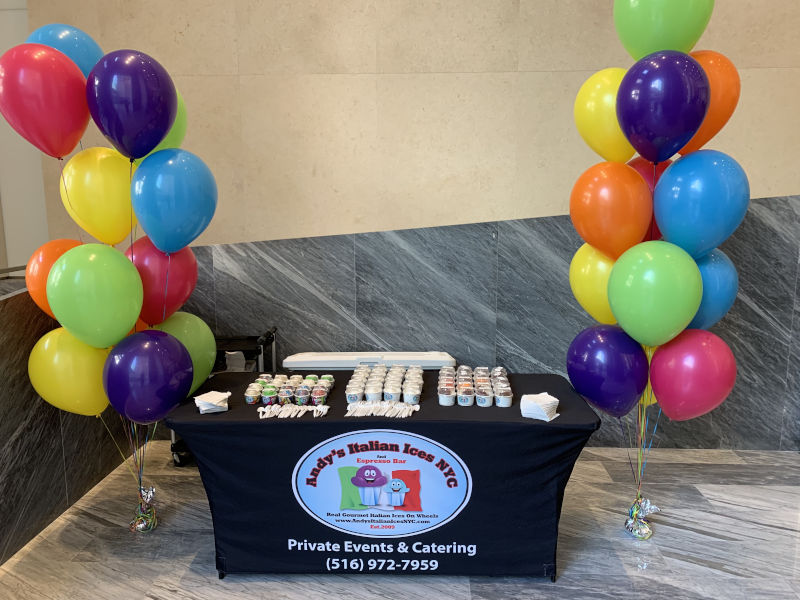 Liquor Infused Parties
Looking for a unique flavor experience, Andy's can do an infused liquor party at your Boat Dock, Home, or Private Club. We offer a huge selection of frozen cocktails that we will blend up for your next party. You provide Andy's Ices with the liquor and see the amazing selection of refreshing cocktails we can make.
Choose from our freshest fruit Water Ice and Crème Ice selections to make:
· Pina Colada
· Mojito
· Margarita * Plain * Fruit
· Daiquiri * Strawberry-Banana * Orange Creamsicle
· Mudslide
· Blue Martini or Blue Hawaii
· Old Fashioned Fruit Punch
· Chocolate Martini
Did we miss your favorite frozen blended cocktail? Contact us and Andy's will be happy to make your favorite liquor-infused frozen cocktail at your next party.
Party Buckets
Our Italian Water Ice and Crème Ice is made with only the finest ingredients, which we are now serving in Party Buckets to you. Pick from one of our many mouth-watering flavors, or our Seasonal favorites of Water Ice and Crème Ice. We even offer our Party Buckets in Sugar-Fee selections. Contact us today to find out more about Andy's 2 Gallon Party Tubs.